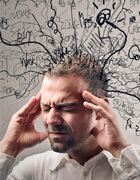 Disorders
Services For Those With Psychological Disorders
Psychiatric consultation
De-addiction counselling services
Individual and family counselling for patients and families
Clinical and Neuropsychological Assessment
Remedial counselling
Occupational therapy
Speech therapy
The procedure of Individual Consultation
People with limited economic means can approach the concerned Mental Health professional for concessional charges or conversion to a Blue Card, a special facility for those below the poverty line (BPL) and holding an orange ration card.
There are clients who opt for particular consultants. They are given exclusive appointments.
Considering the wish of many to consult Dr Anand Nadkarni, the initial assessment is done by a competent consultant within the team, and the case is then presented to Dr Nadkarni for his opinion.
The Team of Medical Consultants

Dr.Anand Nadkarni

Dr. Sanjay Kumawat

Dr. Vivek Chincholkar

Dr. Shaila Patil

Dr. Kamaljeet Singh

Dr. Anagha Vaze

Dr. Medha Chaubal

Dr. Shailesh Umate

Dr. Sukhada Chimote

Dr. Rucha Joshi

Dr. Anuja Kelkar

Dr. Satish Nagargoje

Dr. Wilona Braganza
---
List of Clinical Psychologists

Dr. Shubha Thatte

Dr. Savita Apte

Mr. Kuldeep Datey

Ms. Siddika Panjawani

Ms. Manjiri Gokhale

Ms. Kavitagauri Joshi

Ms. A. Saraswathi

Mr. Swapnil Pange

Ms. Panna Rele

Ms. Eishwarya Natekar

Ms. Jagruti Wandrekar

Ms. Irawati Jogalekar

Ms. Advaita Nigudkar
---
Developmental Pediatrician

Dr. Koyeli Sengupta
---
Consultant Neurologist

Dr. Pankaj Agarwal
In addition to clinical consultation with our consultants our team off psychologists offers psychometric testing services of all standardized tests. They also undertake individual counselling & facilitate support groups